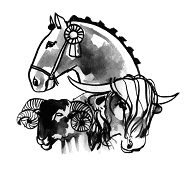 Mid-Argyll Show
Fleece Competition
Judge: William Hewitson BWMB
Prizes: Best Fleece in Show - Bottle of Whisky
Prizes: All Class 1st - £4, Runners Up - £3 & £2
The general rules of Competition as set out in the Premium List shall apply to the Wool/Fleece Competition.
There must be a minimum of three entrants for any class although each of these entrants may enter up to three fleeces.
Fleeces shall be laid out in the tent be 10.00 a.m. on Show Day.
Each entry shall be appraised and the Judges score card shall be affixed above each entry.
Points shall be awarded for style and character, fineness (whiteface only), uniformity of quality, strength, springiness, handle, colour and particularly presentation. While weight may be taken into account by the Judge, this shall not be an overriding factor.
Any artificially tinted or stained fleeces shall be disqualified. Fleeces should be unwashed.
Entry fee of 50p per fleece payable with entry form on Show Day.
Prize tickets will be awarded in each section.
All finalists must be registered wool producers.
Competitors are reminded that they should collect their fleeces not earlier than 4.30 p.m. at the end of the Show.
Classes
Blackface Mattress Style
Blackface Fine or Newton Stewart Style
Cheviot
Greyface, Mule, Lustre and Sundry
Fine and Medium
Naturally Coloured