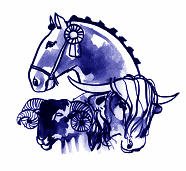 Mid-Argyll Show
History 1957 - 1964
1957 had a record entry of over 900 and seems to have been a great success. Once again the press were highlighting the idea of one major show for Argyll with Lochgilphead/Kilmartin being suggested as central points. However it is felt this is unlikely to happen as the farming community don't seem to favour a County Show. The champions for 1957 were:-
Ayrshire Cattle

- H. D. Smith, Balliemore.

Highland Cattle - P. & R. Dalgleish, Barbreck House.
Galloway Cattle - Major Campbell, Arduaine Farms.
Clydesdale Horses - D. Smith, High Knockrioch, Campbeltown.
Sheep - A. G. Black, Tangy and R. Lamont, Killellan, Toward.
The last show of the 50's was held at Lochgilphead in brilliant weather. There was a good record attendance. As the show increased in size new names appeared among the prize winners. Best Ayrshire on show was won by D. Dewar, Arivore. The Highland section was monopolised by Sir W. Lithgow and T. E. Nelson, Achnacloich. Arduaine Farms again won most of the prizes in the Galloway section. Best animal in the Clydesdale breed was won by N. Vernal, Kilmartin and the principal awards for sheep went to A. S. McIntyre, Inverae and Messrs A. M. Ronald & Son, Colinlongart.
D. MacKellar, Lochgilphead carried all before him in the crook making section.
As the show moved into the 60's more new names appeared in the prize list such as D. Watt, Fernoch and E. McPherson, Dalrannoch, in the Ayrshire breed. P. Neil, Keills in the Galloway section and A. McFadyen & Son in Clydesdale horses. By the 60's the baking, preserves, etc., had grown greatly and had come a long way from the early days of dairy produce only.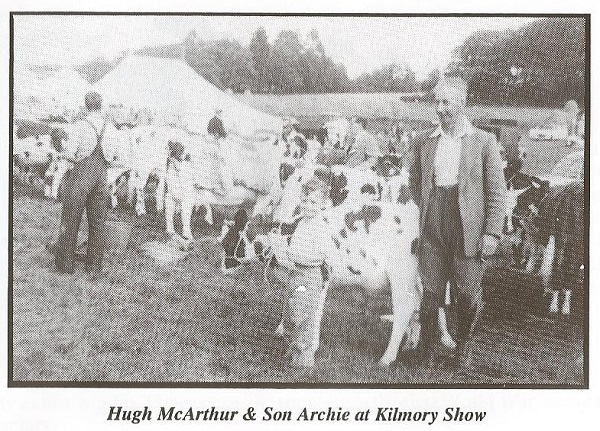 The 1961 show at Kilmory was blessed with excellent weather something that is a must if the shows are to be successful. There was a drop in entries in some classes but increased support for Ayrshire Cattle and Blackfaced sheep sections. The leading prizewinners were:-
Ayrshire Cattle

- T. Young, Glencraigs and Mr McArthur, Kilmory.

Sheep - R. Lamont, Killellan and D. Lamont, Knock.
Highland Cattle - Sir W. Lithgow, Ormsary.
Ceann Loch Pipe Band played at intervals throughout the afternoon led by World Champion Drum Major Ian Lang.
Galeforce winds restricted the attendance at the 1962 show held in Lochgilphead. Sometimes the driving rain and galeforce winds made it nearly impossible for the show to continue. However it did carry on despite both spectators and animals having a miserable time. There was no parade of stock at the end of the show due to conditions. Bad weather also spoiled the 1963 show and crowd attendance was down. If one looks at the Committee of the 1963 show it is only to realise how many have passed on to "higher pastures". However it is good to see the Vice-President of that day James McArthur is still with us as is that other well known Mid Argyll farmer David Dixon. Also Donald Currie who has since left farming is also fit and well.
It was recorded that Mr Logan Richmond (Logie) now Honorary President of the Society had recently celebrated his 86th birthday and had been at every show since the beginning. The show of the 1964 was very disappointing as a result of a fall in livestock entries. There was a total absence of Highland Cattle, Galloway Cattle and heavy horses.