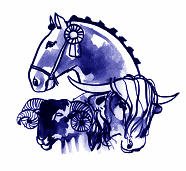 Mid-Argyll Show
History 1975 - 1986
New names also appear in the 1975 show held at Killinochonoch Farm, again in a heatwave! Miss Strang Steele, Garraron; Major MacNay, Ford; Trustees of lOth Duke of Argyll and Millar, Ballygreggan, Campbeltown.
It was also in 1975 that Mr Sandy McLean retired after being secretary for 7 years. Mrs Margaret McMillan, Ardrishaig, daughter of Mr McLean then became secretary.
In 1977 the show was at Kilmartin and it is recorded as one of the best in the history of the event despite it almost being cancelled due to lack of funds. However thanks to the fund raising efforts of all those who rallied round it survived to be a success and also to show a profit on the day. It seems during the 70's the show was in the Kilmartin/Kilmichael area most of the time, and again a very successful show was held in 1978 with over 150 classes to be judged in everything from Highland Dancing to 'Clooty Dumplings'. Entries were up on the previous year and some of the main prizewinners were:-
Ayrshire Cattle - A. Millar, Ballygreggan.
Highland Cattle - Mary McLean, Balure.
Beef Cattle - H. D. Smith, Balliemore and E. McPherson, Dalrannoch.
Sheep - Sir Charles MacGrigor,Upper Sonachan and A.Ronald, Colinlongart.
Ponies - Sheila Dixon, Kilbride.
Champion Highland Pony - T. H. Duncan, Isle of Bute.
Kilmartin was again the venue for the 1979 show when an attendance of 3000 meant an increase in gate receipts of £400 from previous year. President was Mr W. Smith, Balliemore. Among the prizewinners were, E. McPherson, Dalrannoch; M. McLean, Balure; Messrs Brown, Ardenaisaig; R. Malcolm; John MacNicol & Sons and Cladich Farms.
With the passing of the 70's it was sadly the passing of an era when the McArthur family first of Castleton and then Kilmory Farm were no longer winning major prizes in the Aryshire Cattle section. For over 70 years the name McArthur was synonymous with Mid Argyll shows and these people were the backbone of such events.
1980 brought the reappearance of the famous Clydesdale horses to the show, but only in a demonstration or display category. Three pairs of Clydesdales were brought to the show from Wigtonshire by Mr H. Ramsay who gave a display of driving with a carriage.
Mr Ramsay and his team of Clydesdales returned in 1981 when the President was Mr Boase and the Secretary Mr Lennox Paterson, Dunadd. Competitors from all parts of mainland Argyll as well as the islands of Mull and Bute were present. By this time many side attractions such as sheepdog handling, mini-rugby, shinty, etc., were part of the show. Introduction of new awards in livestock classes for the first time and every winner of a championship will receive a permanent momento of his/her success in the way of a small trophy. The main prizewinners were:-
Cattle Championship - McPherson, Dalrannoch.
Sheep - Cladich Farms.
Baking (most points) - Mrs Shaw, Lergychonie.
Handicrafts - Mrs W. Smith.
Flowers - Mrs H. McCuaig.
It was also pleasing to see that the sons of several of Argyll's most successful farmers were showing in their own right, thus maintaining long-standing family traditions. These included Bruce Dixon, Kilbride; D. Semple, Dippin; C. McCallum, Strathnafanaig and J. Black, Tangy. This show was a big success with its many attractions over and above the livestock and this was to set the trend for future shows.
When the 1983 show came round there was an entry of around 600. An Open Clay Pigeon Shoot was a new feature at the show. This along with all the other side events and trade stands made the show bigger and brighter than ever before and was now a major attraction for tourists as well as locals. The supreme award for cattle went to E. McPherson, Dalrannoch and in sheep to B. & J. Love, Ballygowan. Mr John Leese of BBC radio fame, who resides locally, gave a lively and sometimes humorous commentary throughout the show and has continued to assist in this way at subsequent shows.
1984 produced anothergood show when some fine animals were paraded. Among the main prizewinners were, E. McPherson, Dalrannoch; M. McLean, Balure and D. Dixon & Sons, Kilbride. One Clydesdale horse was shown by McFadyen Contractors, Campbeltown.
For the 1985 show a new trophy for the Supreme Championship was on display. This trophy was the Mathieson/Richmond Trophy to commemorate two of the shows staunchest supporters over its long history. President was Mr A. McArthur, Ormsary, grandson of Mrs McArthur, Kilmory. The overall supreme championship was won by Mr. W. McLean, Lephinstrath, Southend.
1986 was again a landmark in show history as no Ayrshire Cattle entries were received from Mid Argyll. However, Kintyre farmers were present to keep this class alive. Mr McLean won the championship again for Ayrshire Cattle. D. Dixon & Sons, Kilbride for Sheep and M. McLean, Balure for Highland Cattle.
Some of the names and winners in the home industries and floral section included Mrs Shaw, Innishaig; Mrs MacVean, Dalvore; Jemma McLarty, Kilmichael Glassary; Fiona MacNicol, Turnalt; Anne Weir; Jean Miller and Helen McCuaig.