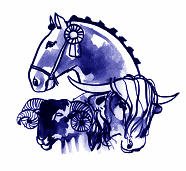 Mid-Argyll Show
History 1996 - 2001
Each year from 1996 untill 2000 the show was held at Killinochonoch Farm Kilmartin by kind permission of the DJD Dixon and Sons.
In 1996 A Millar had the Ayrshire Champion, Sir William Lithgow the Highland Cattle Champion and the overall sheep Champion was won by DJD Dixon and Sons. Jean campbell took the Cup for most points in the Baking and Karen Mclarty the Preserves Cup while Heather Dixon and Cathie Smith shared the Handicrafts Cup. Jenna Shaw won the Children's section. Side events included Dog Training and Agility Displays, Children's sports and Shinty Tournament.
In 1997 Bruce Dixon took over as President of the Show. A Falconry Display and a Ladies Shinty Match were added attractions. The Champion Cldesdale was shown by M McFadyen, the Highland Champion by Mrs Montgomery, Cnoc and W Mclean, Ashlield won the Open Beef Championship. The Overall Sheep Champion came from Cladich farms. The Flower section was won by M Devine and Helen Robb and Debbie munro and June MacNicol took the Baking Cups. Harriet Gray Stephens and Kirsteen Lawrence won the Junior Cup for most pionts in the Childrens Section.Janet kennedy had the Best Horse or Pony in the Show.
At the 103rd show in 1998 D Semple, Dippen won the Open Beef Championship and Cladich Farms the Overall Sheep Champioship. John McLarty won the Stick and Crook Section and N Gray Stephens had the Best Pedigree Dog.
Donald MacNicol was elected President for the Shows held in 1999 and in the year 2000.
There were over 500 enties in the Home Industries tent and Judges commented on the high standard of the exhibits at the 105th Show in 2000. Livestock sections were also strong and though the sun did not shine a large crowd enjoyed the day. A Sheep Shearing Competion, Plank Racing and Wood Carving Display were appreciated by spectators and exhibitors after the main competitions had been judged.
Gillian Green's horse Glenmarcus was Confined Champion of the Show while Ewan Mapherson had the Supreme Show Champion with the Open Beef Champion. Josie Shaw won the Park Challenge Bowl for most points in the Baking and Karen Mclarty took the Preserve Quaich. Flower Section was won by M Devine and Handicrafts by M Campbell and D Munro. In the Childrens competitions for 4 to 7 year olds 4 children shared the prize for most points - Fraser and Lewis MacNicol, Karen Dixon and Ramsey Gray Stephens. The section for 8 to 12 year old competitors was won by Kirsteen Lawrence.
In 2001 the Show had to be cancelled due to the outbreak of Foot and Mouth Disease.