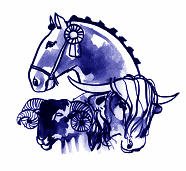 Mid-Argyll Show
Horse and Pony Section
Notes, Rules & Conditions 2018
NOTES
Society

Rules

apply to Horses and Ponies

Please ensure you complete the 2018 Entry Form, accept the Opt-in for use of photographic material for promotional purposes (if desired) and sign the declaration.

Please inform the Secretary should you decide not to attend the Show after your Entry Form has been submitted or if your Horse/Pony is no longer competing in it's entered class.

In the event of any class having a large number of entries, it will be at the judge's discretion to split the class.

It is now European Law that all measurements are metric. Please ensure your Horse/Pony is entered in the correct class.
RULES AND CONDITIONS:
In all ridden classes, horses and ponies must be over 4 years of age.

Lead rein riders must be ages 4-10 on show day and mounted on a pony up to maximum height of 12.2hh.

The Judges' decisions are final.

Please bring your Horse Passport with you as you may be required to produce it.

Approved Hard Hats must be worn by all mounted competitors. -- To check your Hat conforms to new Rules, please visit www.bhs.org.uk/safety-and-accidents/common-incidents/what-to-wear/headwear

Any horse/pony can be asked to leave the Show Field by any Committee Member or Steward if deemed necessary.

All dogs must be kept on leads.

All entries, with membership payment, must be received by Friday 3rd August 2018. Entries received after this time will be accepted until 8.30am on Show day, but will not appear in the show catalogue.

No classes will be held up for competitors still competing in another class or activity, except at the Judge's discretion.

Start Times stated are for the first class competing in the relevant Ring. Riders/handlers should ensure they check with the Ring Steward to confirm when individual classes may start as this will depend on class numbers on the day.

TSR qualifying rules can be found here: www.theshowingregister.co.uk
PRIZE MONEY: 1st - £4 2nd - £3 3rd - £2
---